Apple, banana, rectangle, oval, X-shaped silhouette … And it's all about women's body types! Now in internet we can find a lot of different information and sometimes it's so hard to choose right recommendations for yourself… No panic! Today I will try to make it clear and give some useful recommendations about clothing for every body type.
How to figure out which body type do you have? To tell the truth, there is no need to measure the hips, waist and chest. In stylistics the most important are proportions, that's why we will use different approach.
Stay in front of mirror and look attentively on your body. The shoulders line may be sloping, medium or hard. Waist – well or relatively designated. Now it's time for measures with a help of tape. Use it straight, as a ruler. Measure distance between shoulders and between hips in the widest part. Now try to remember how you get weight? Which parts gain weight first of all? Write results on paper.
In stylistics there are 7 body types: "The Slender Hourglass", "The Full Hourglass", "The Triangle", "The Inverted Triangle", "The Slender Column", "The Rectangle" and "The Circle". Today we will consider 3 body types, their singularities and suitable design.
"The Slender Hourglass" is the classic body type with perfect proportions. That's why all other body types we try visually make closer to "The Slender Hourglass".
How to recognize: the same distance between the shoulders and between the hips, the middle line of shoulders, precisely designated waistline, bulging buttocks. Weight gain is relatively proportional to (and top and bottom simultaneously). There is cellulitis (weakly or strongly expressed).
Main rules: line cut of clothing should replicate the lines of the figure. Use light and soft fabrics. Accentuate the waist with accessories and details.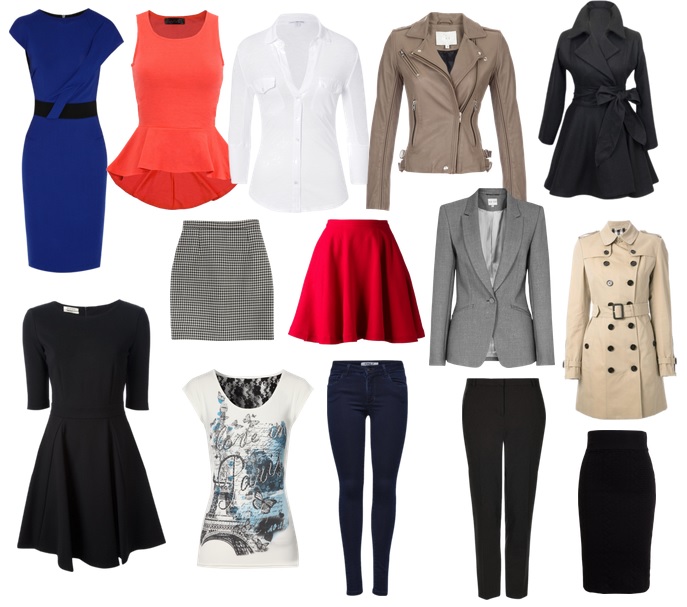 Best clothing:
Jackets and Cardigans: on the figure, only fitted.
Blouses and Tops: on the body, wraparound and additional overlapping details
Skirts: straight, with soft folds or wide, better with a belt and darts at the hips and buttocks, wedged, expanded, tailored on the bias
Trousers and jeans: any model with belt, feminine models which show body shape.
Dresses: any model on the figure or with belt
Coat: all models with accent on waist or with a belt
Swim suits: you are free to choose any model
Better to avoid: straight cut jackets, huge trousers and skirts, shapeless sweaters and sport wear, extra multilayering. It can visually add some extra kilos and make your perfect body shapeless.
It's a crime to hide your natural beauty! ©
"The full hourglass". In fact, this body type looks like "The slender hourglass", but has some extra weight. It's important to choose closing which is not tight, and goes over the contours of the body. For such body type you should choose fabrics carefully. Better to choose soft fabrics rather than heavy and rigid materials.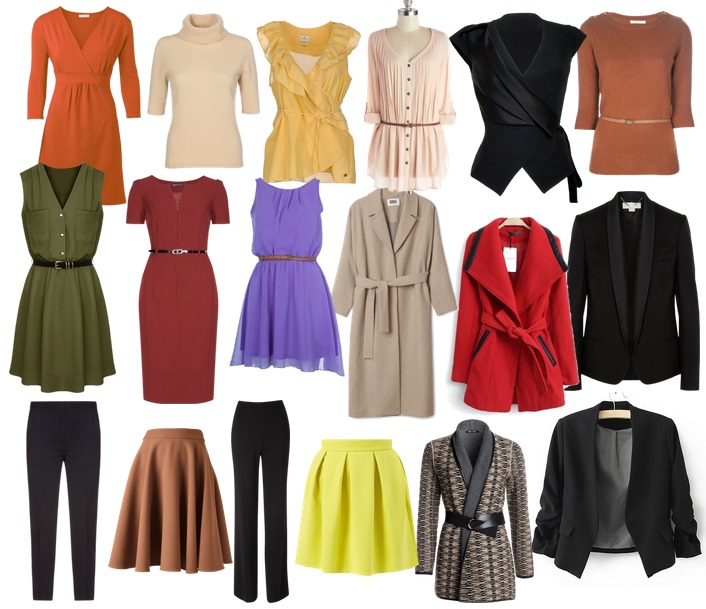 Best clothing:
Jackets and cardigans: on  the figure, with shawl collar or with hidden bottom in front
Blouses and tops: on the figure, wraparound or with overlapping details made from soft fabrics
Skirts: extended, wide or tailored along the bias, good fitting on the waist.
Trousers: with flat front part and zipper on side
Dresses: on the figure, wraparound or chemise
Coat: with shawl collar, on the figure, single-breasted
Swim suits:  you need tough cups or other type of support. You should avoid stripes and details on the bust and hips.
Better to avoid: jeans (too much pockets on hips), straight cut skirts (except skirts made of soft fabrics with lycra), straight cut or double-breasted jackets, shapeless sweaters and sport wear, extra multilayering in clothing, pleated fabrics, square and strips.
"The Triangle". This body type is characterized by wide feminine hips and little shoulders. "The Triangle" has  relatively sloping shoulder line and relatively marked waistline. This body type gain weight starting from hips, buttocks and bottom part of belly then breast, hands and face. There is some cellulite.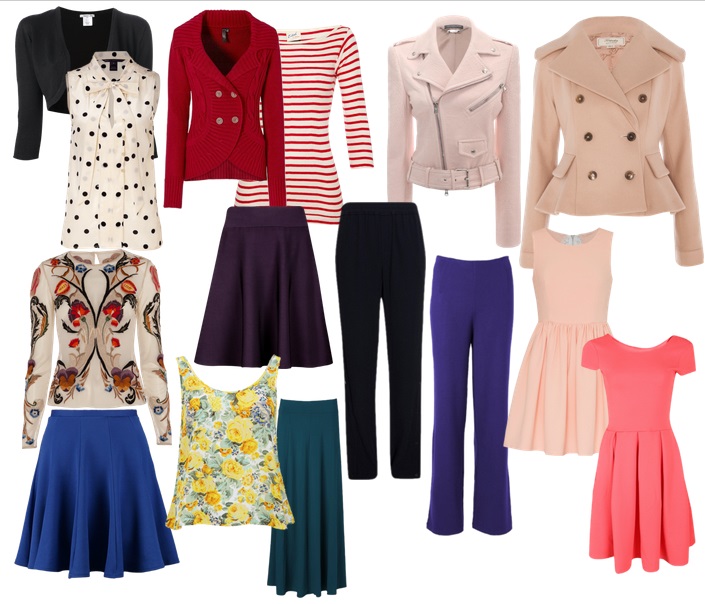 "The Triangle" needs some volume in upper part of body, that's why you need to attract more attention to it. It's important to remember that jackets and tops should finish upper or below the most wide part of hips. Multi-layer clothing (ex., jacket top of blouse) in upper part of body attract attention to it.
Best clothing:
Jackets: with pockets, buttons, double-breasted, with details
Shirts and tops: colored, horizontal stripes, deuces
Skirts: simple lines: long extended, tailored along the bias or wedged
Trousers: monochrome, with a zipper on the side, slightly wider at the bottom, if you have long legs you can try wide models
Dresses: cutted through the waist
Coat: straight shoulders or large collar
Swim suit: use models with details up from the waist. You should avoid models with cutouts that located on the widest part of hips.
 Better to avoid: jeans (too much pockets on hips), details on skirts and trousers, raglan sleeves, straps around of the neck, tight "single layer" blouses and tops.
Now you know how to recognize your body type. Next time we will talk about recommendations for body types "The Inverted Triangle", "The Slender Column", "The Rectangle" and "The Circl